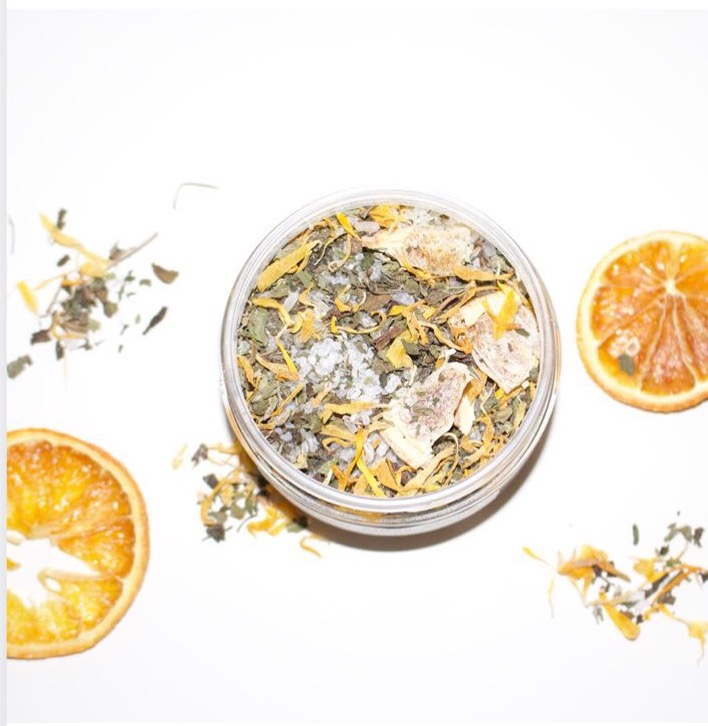 Awaken Bliss Bomb
Behold!! The ultimate bath magic to heighten your senses and calm your skin. This #selfcare treat is a botanical medley of cooling Eucalyptus + Peppermint, soothing Calendula to relieve irritations, and Oranges + Lemon that help with exfoliation and pulling out toxins- all infused into a invigorating base of detoxifying and remineralizing Dead Sea and Epsom Salt.
Energize and melt away in the intoxicating scent of the Awaken Bliss Bath Bomb that will supercharge your awareness and eliminate free radicals.
Product Size
4 oz - 2 baths
6 oz - 4 baths
Ingredients:
Dried Calendula, Pepperment, Lemon Balm + Oranges*
Tangerine, Lemon and Eucalyptus Oil*
Dead Sea + Epsom Salt
Organic Baking Soda
Includes:
Reusable 100% organic cotton muslin bag
Bamboo spoon
*certified organic
How-to
Simply fill the reusable muslin bag with herbs, steep in tub to enjoy a little aromatherapy and use pouch as an herb-filled exfoliating washcloth. After bathing, discard herbs and hang muslin bag to dry for your next bath session!!